Schedule Bulk Texts
Send messages to more than one contact at once by making User Groups in Power Textor.
Add unlimited users to a group and send text messages in one click - no more hassle of choosing contacts over and over again!
View Conversations
Respond to your customers individually for personalized customer service! Or keep the conversation going with bulk messages.
View your complete conversation history with each contact and reply easily from your browser.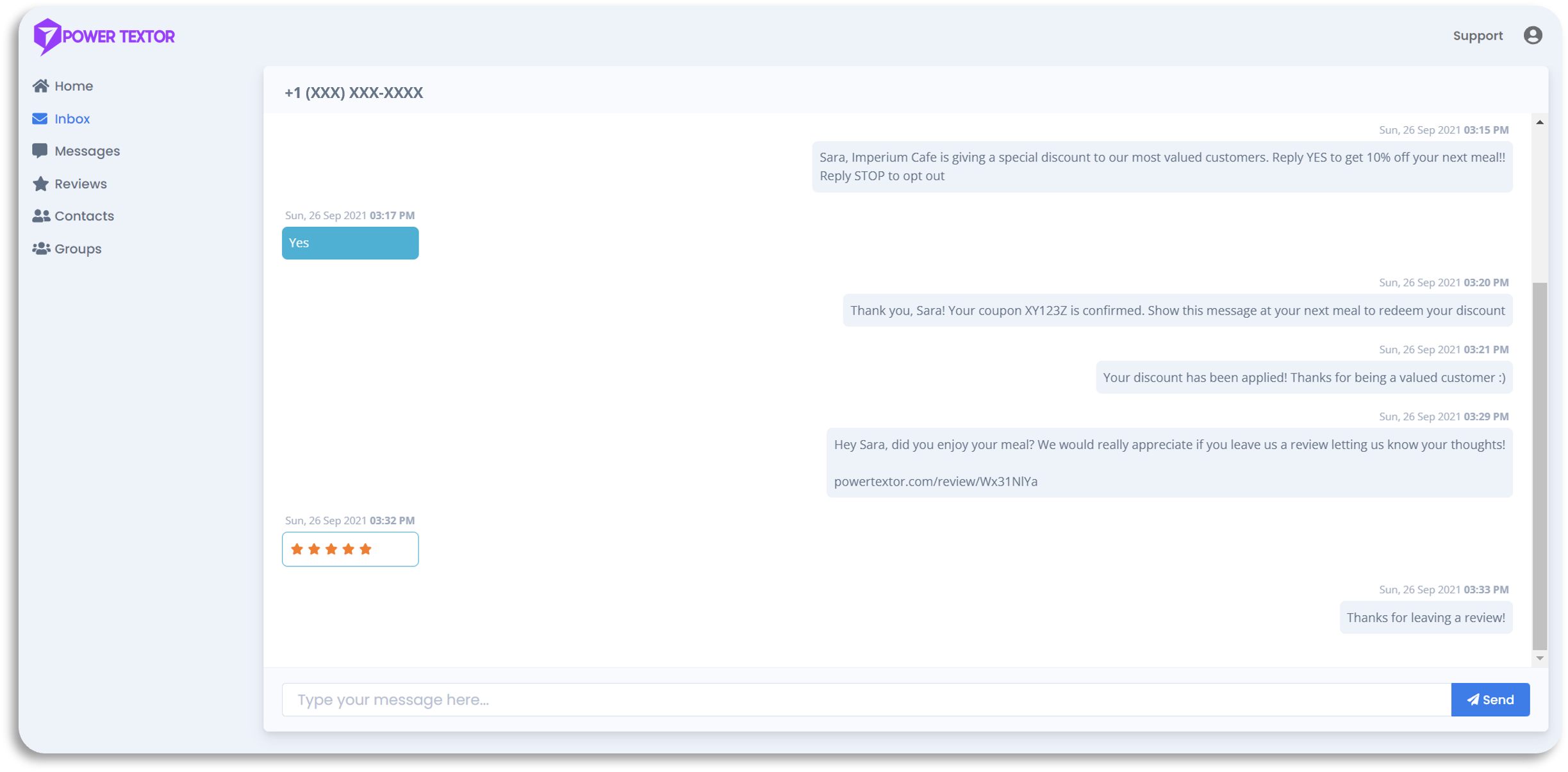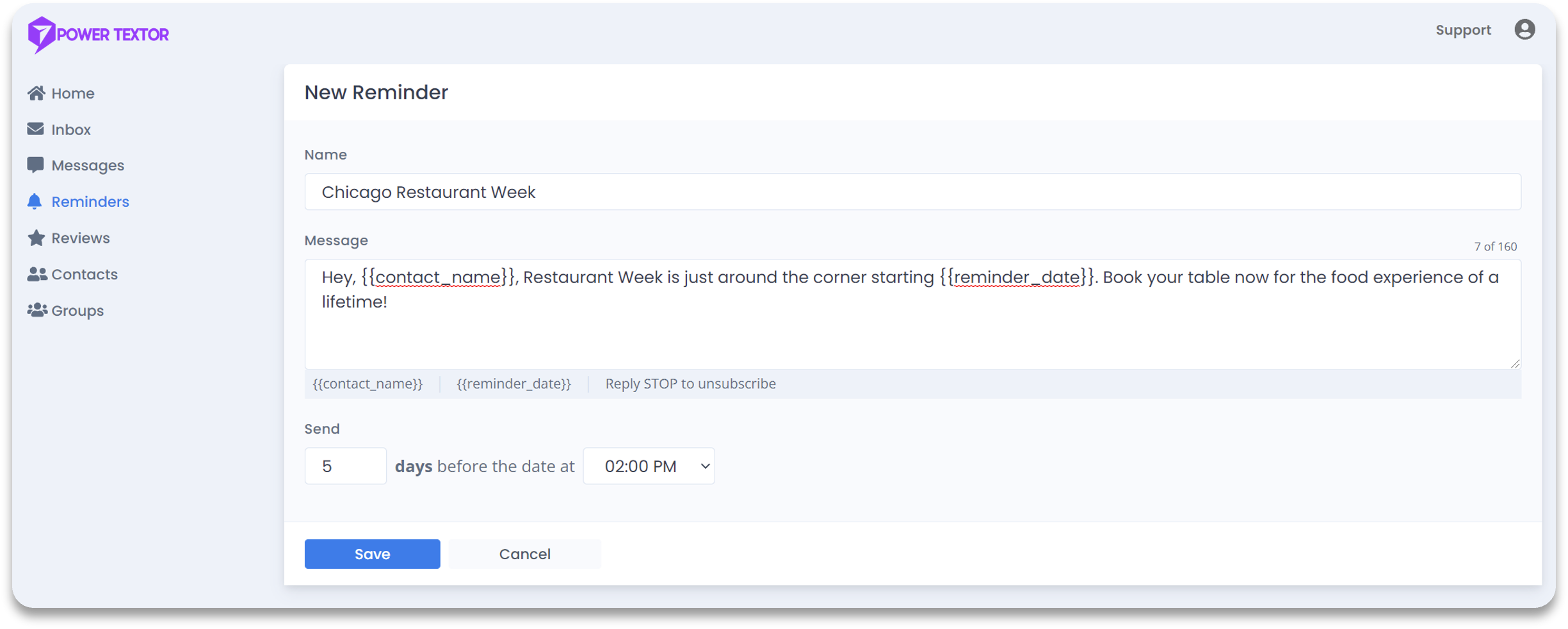 Send Reminders
Schedule and send reminders to let your clients stay informed with your most awaited events!
Don't let your contacts miss out on important appointments - stay connected to update them frequently with your business upgrades.
Ask For Reviews
Show off your impressive customer satisfaction and attract new customers with Google Reviews.
Take your services to the next level through direct customer feedback.

Pricing
Basic Plan
$
50
/ mo
1,000 Messages
Incoming Messages
Unique Local Number
Customer Reviews
Unlimited Contacts
Unlimited Contact Groups
Event Reminders
Get Started
5,000 Messages
Incoming Messages
Unique Local Number
Customer Reviews
Unlimited Contacts
Unlimited Contact Groups
Event Reminders
Get Started
Enterprise Plan
$
250
/ mo
10,000 Messages
Incoming Messages
Unique Local Number
Customer Reviews
Unlimited Contacts
Unlimited Contact Groups
Event Reminders
Get Started
Digitize Your Political Campaigns
Send bulk messages to reach out to your campaign supporters with a single click! You can create groups with unlimited contacts in Power Textor to reach out to your voter base.
Text messaging is the best medium to spread your word, as it has the best open rates. Spread awareness of campaign events and engage supporters to donate to your campaign. Power Textor enhances communication with your constituents during your political campaigns.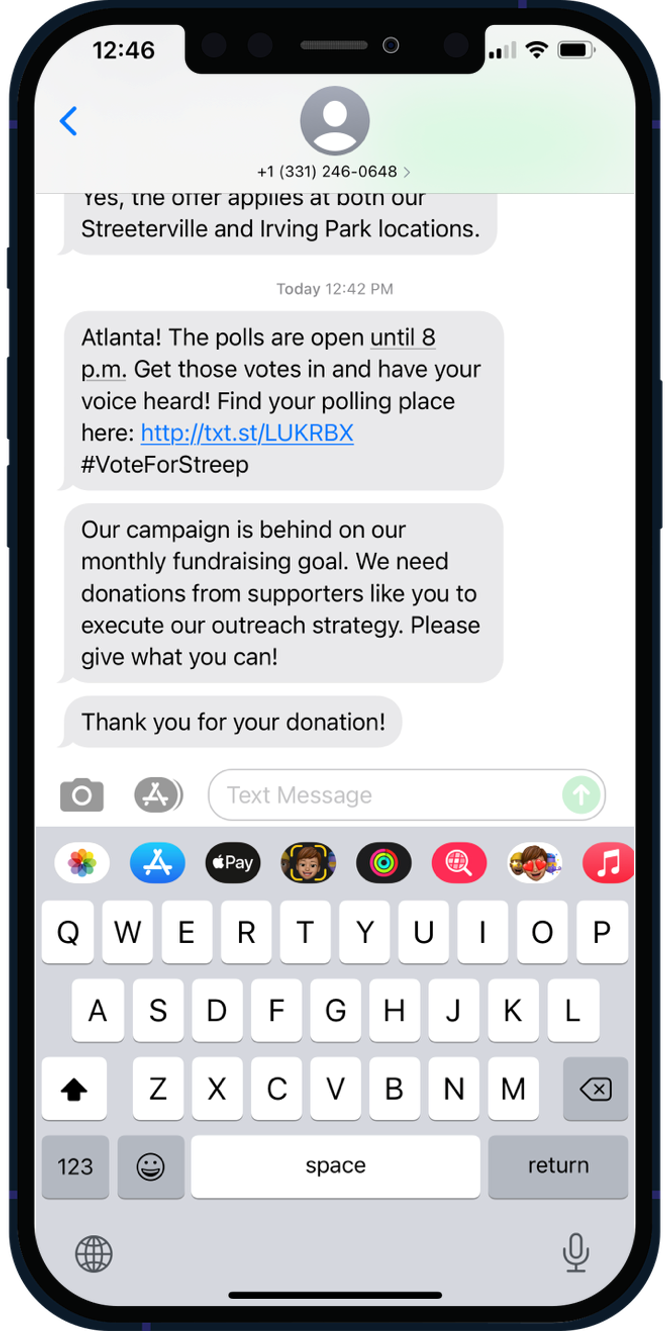 Organize voter turnout with engaging messages. Schedule text messages with meaningful templates on a regular basis and keep your supporters updated on your campaign initiatives. Include effective slogans, campaign events, and donation links in your texts.
Form groups within Power Textor and set-up dates according to your campaign's timeline to regulate messages
Cut off the paperwork and send online petitions to people
Help people caste their vote in your favor by effortless marketing of important actions your supporters can take to help your campaign, such as voting days and rallies.
Maximizing Reach for Non-Profit Organizations
If you run marketing or donor engagement for a non-profit organization or are a part of charity, then Power Textor is here to make the biggest contribution to your cause. You can now use the most effective medium to reach common people, by introducing text messages to one of the promotional channels.
Power Textor is an end-to-end application to bridge senders and receivers, via text messaging. With this intelligent feature of scheduling text messages, you can keep your audience engaged on your charitable services by staying continuously in touch with them.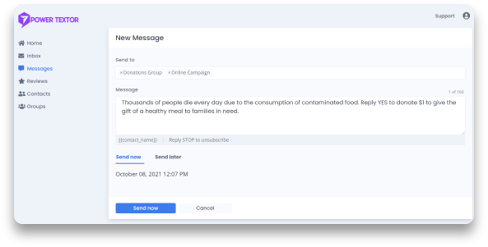 Insert templates, list your contacts, set-up date and time to go hassle-free with sending messages. Integrate Power Textor to your systems today to cut down the fuss of donation campaigns and introduce a new advertising strategy in your non-profit organizations.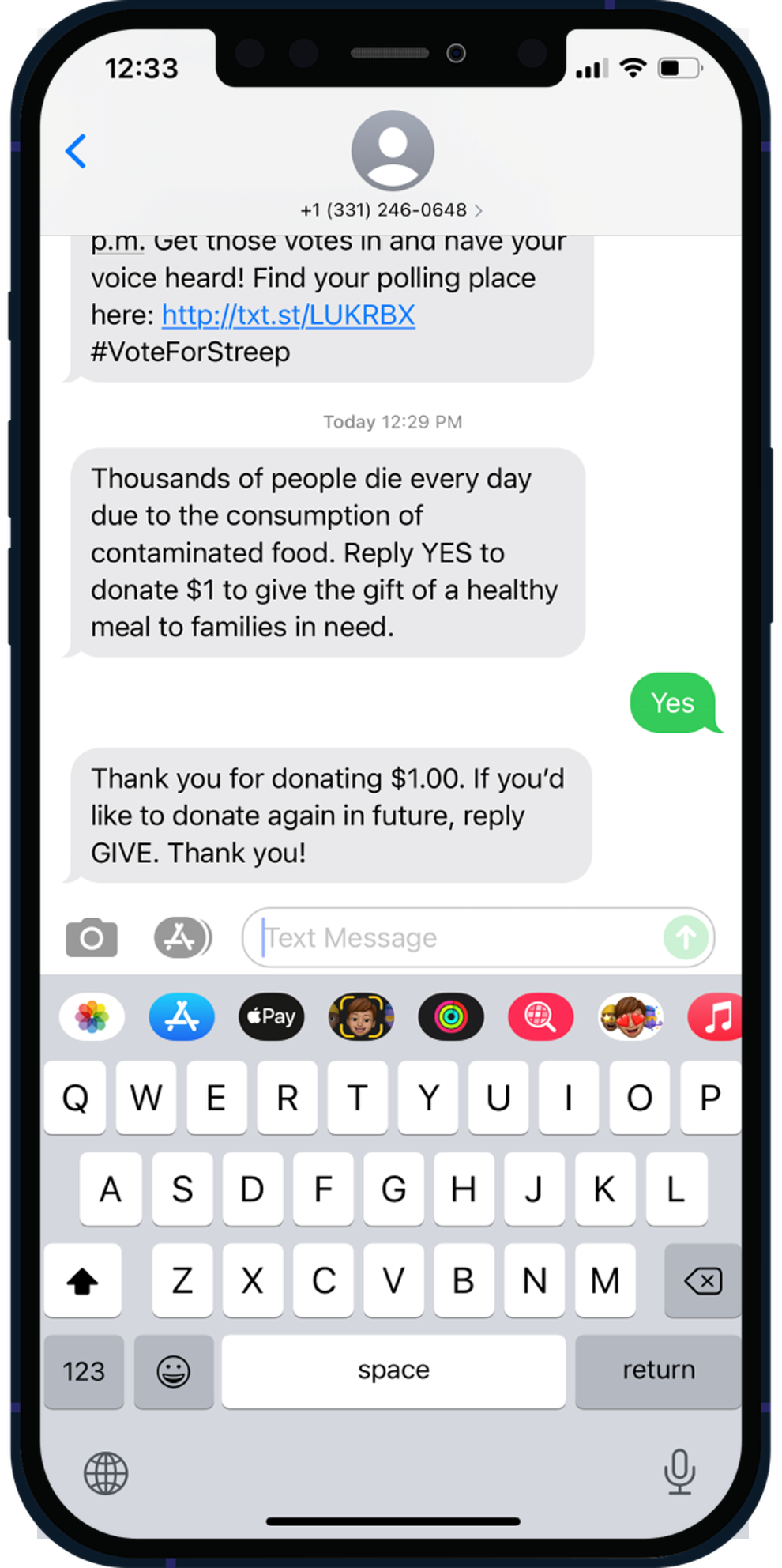 Effective Marketing For Small Businesses
Use Power Textor to form groups and send updates to bunch of customers all at once! If you own a shop, or run a boutique, or manage a home-based business, you can use Power Textor to market your offers to your customer base. Send millions of people a single text message having all the details of your business, deals, products, services and much more!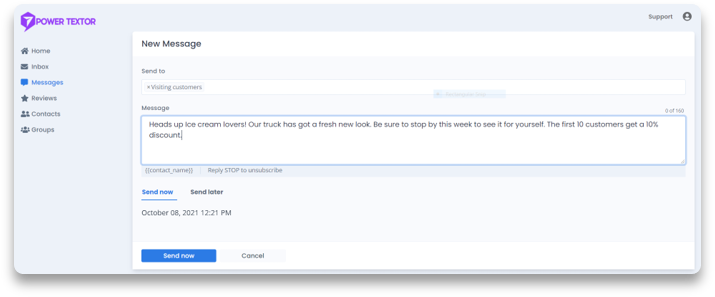 Stay connected with people to attract them with regular notifications of your business upgrades.
If you are a restaurant owner, you can create groups including all your customers' contact numbers and notify them for new launches and upcoming deals.
If you own an Event Management company, send text messages in batches to specified audience and inform them about your services.
About Us
Power Textor helps businesses develop better relationships with their customers through the power of text message marketing. Forget about sending unopened emails - with text message marketing, engaging your customers is easy and effective.
Through SMS communications, you can easily inform your customers about upcoming events or special offers, send reminders to event or appointment registrants, and garner customer feedback to boost your ratings and help improve your products and services.
Legal
Contact Info
powertextor@imperiumdynamics.com