Invitation to Church
In the digital age, churches use SMS invitations to connect with congregations. SMS provides a convenient and efficient way to extend invitations, share updates, and foster community among church members. By sending a text message, churches can bridge the gap between faith and technology, ensuring timely receipt of messages by recipients.
Invitation to Sunday Worship Service
Message Sample:
Join us this Sunday for a truly uplifting experience! We extend our heartfelt invitation to Sunday worship service at [Church Name]. The warmth of community, the embrace of faith, and the joy of togetherness await you.
Greetings, In a world filled with noise and distractions, we invite you to find solace in the serenity of our church service. Join us at [Church Name] for a moment of reflection, prayer, and togetherness. Let your spirit be uplifted and your heart finds peace.
Church Invitation Email (Sample)
Dear [Recipient's Name],
You're cordially invited to our upcoming church service at [Church Name]! Your presence would mean the world to us as we come together to celebrate faith, hope, and love. Join us in this spiritual journey as we grow and learn together.
Short Church Invitation Message:
Discover a haven of spirituality and community at [Church Name]. Join us this Sunday for a soul-nourishing church service that will inspire, uplift, and connect you with fellow seekers. Your presence is a blessing we cherish.
As you can see, SMS church invitations bring a whole new dimension to our connection with you. They allow us to reach out to you promptly, sharing the joy of worship, the embrace of community, and the empowerment of faith. We are excited to extend our warm invitation to you and look forward to having you join us at [Church Name] for an enriching and fulfilling experience.
Benefits of SMS Church Invitations
In this technology-driven era, churches adapt and embrace innovative ways to connect with their congregation. SMS church invitations offer a range of benefits that streamline communication and strengthen the bonds within a congregation.
1. Convenient and efficient:
SMS church invitations provide a direct way to reach church members, as most individuals own mobile phones and have access to SMS. This immediacy ensures that essential updates, event invitations, and reminders are received promptly.
2. Personalized touch:
By sending personalized messages, churches can create a sense of care and belonging among members. Whether extending a warm invitation or sharing inspirational messages, SMS allows for more intimate and individualized communication.
3. Enhanced engagement and participation:
SMS church invitations can include links, images, and interactive elements, providing additional resources, registration forms, or event details. This encourages active involvement and simplifies participation in various church activities.
4. Cost-effective communication:
Compared to traditional methods like printing and mailing invitations, SMS significantly reduces expenses while maximizing the reach and impact of the message. This allows churches to allocate resources more efficiently.
Creating Effective SMS Church Invitation Samples
Crafting compelling SMS church invitation templates is crucial to engaging and inspiring your congregation. Follow these guidelines to ensure your invitations grab attention and convey the spirit of your church community:
Use warm language to Keep messages concise, clear, and inclusive.
Include essential details: date, time, location, and specific instructions or requirements.
Incorporate a call-to-action that encourages recipients to respond or share the invitation.
Add a personal touch by addressing individuals by name for a more intimate and personalized experience.
Consider adding a relevant Bible verse or uplifting quote to connect with your congregation spiritually.
SMS Samples for Church Invitation:
"Join us at [Church Name] this Sunday for a powerful worship experience! We can't wait to see you there at [time]. Let's unite, celebrate our faith, and be inspired by uplifting messages. Bring your friends and family too! Reply 'YES' to confirm your attendance. God bless!"
"Hey there! We have something special planned just for you this Sunday. Experience the warmth of our community, hear uplifting sermons, and find encouragement in the company of fellow believers. Join us at [Church Name] at [time]. We can't wait to worship together. See you soon!"
"Feeling a little lost? Seek solace and find purpose with us at [Church Name]. Join our Sunday service at [time] and discover a welcoming community that embraces you just as you are. Come and experience the power of faith, hope, and love. Reply 'JOIN' to let us know you're coming!"
"Ready to recharge your spirit? Join us this Sunday for active service at [Church Name]. Expect heartfelt worship, practical teachings, and an opportunity to connect with others who share your faith. See you at [time]. Reply 'AMEN' if you're excited about this inspiring gathering!"
"Looking for a place to belong? You're invited to our vibrant church community at [Church Name]. Join us this Sunday at [time] as we come together to worship, grow in faith, and experience God's love. Bring your questions and doubts – we're here to walk this journey with you. Text 'HOPE' to RSVP."
Using a Church SMS Service for Your Invitations
With a church SMS service, you can efficiently send invitations, event reminders, and important updates directly to the mobile devices of your congregation members. This instant and direct communication ensure that your messages are received promptly and increases engagement and participation.
Utilizing a dedicated church SMS service strengthens the sense of community, fosters engagement, and creates a more connected and vibrant congregation. Embrace the power of technology and take advantage of a church text message service to simplify your invitation process and bring your church community closer together.
Using PowerTextor for Your Church Texting Service
To further enhance your church's communication and engagement, consider utilizing PowerTextor, a leading church texting service. PowerTextor offers a comprehensive platform designed specifically for churches, providing a seamless and efficient way to connect with your congregation.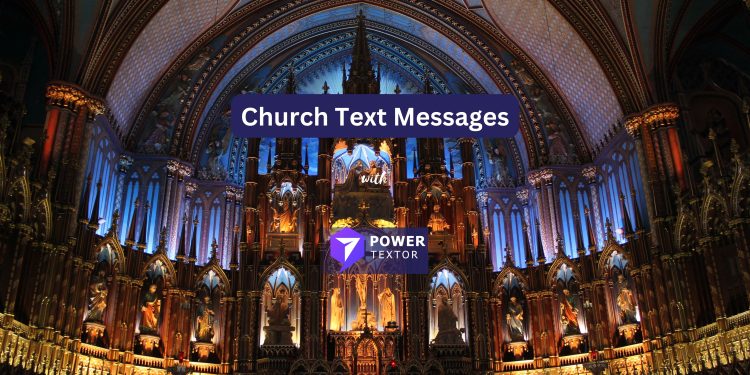 With PowerTextor, you can send personalized SMS church invitations, event reminders, and important updates directly to your members' mobile devices. The user-friendly interface allows you to create and schedule messages, segment your audience, and track engagement metrics, all in one place.
Here are some key features and benefits of using PowerTextor for your church texting service:
1. Easy-to-use interface:
PowerTextor's intuitive platform makes it simple for your church staff to manage and send text messages without technical expertise. You can quickly compose messages, import contact lists, and schedule campaigns with a few clicks.
2. Personalization options:
PowerTextor allows you to personalize your messages by addressing individuals by name or incorporating relevant information. This personal touch strengthens the sense of connection and belonging among your congregation.
3. Automation and scheduling:
Save time and streamline your communication efforts with PowerTextor's automation and scheduling features. You can set up automated messages for new members, birthday greetings, or event reminders, ensuring that your members receive timely and relevant information.
4. Audience segmentation:
PowerTextor enables you to segment your congregation based on various criteria, such as age groups, ministries, or interests. This allows you to send targeted messages to specific groups, ensuring your communications are tailored and meaningful.
5. Analytics and reporting:
Gain valuable insights into your church's communication effectiveness with PowerTextor's analytics and reporting features. Track message delivery rates, open rates, and engagement metrics to evaluate the impact of your messages and make data-driven decisions.
6. Integration capabilities:
PowerTextor seamlessly integrates with popular church management systems, enabling you to sync your contact lists and streamline communication workflows. This integration eliminates manual data entry and ensures your member information remains up-to-date.
By choosing PowerTextor as your church texting service, you can take your communication and engagement strategies to the next level. Strengthen your congregation, foster community, and ignite excitement for upcoming events or services with the power of PowerTextor.
To learn more about how PowerTextor can revolutionize your church's communication, visit our website or contact our friendly team for a personalized demo. Don't miss the opportunity to leverage the cutting-edge technology of PowerTextor and create a connected and thriving church community.