In the modern world of work, having strong communication skills is crucial for promoting teamwork and boosting efficiency. Microsoft Teams has emerged as a popular platform for team communication, offering a wide range of features to facilitate seamless collaboration. One such feature is the ability to schedule messages, which allows you to plan and send messages at a specific time, ensuring that important information reaches the right people at the right moment. In this blog post, we will explore how to schedule Microsoft Teams messages and discuss the benefits of this functionality, including how to schedule a Teams message and how to schedule send in Teams.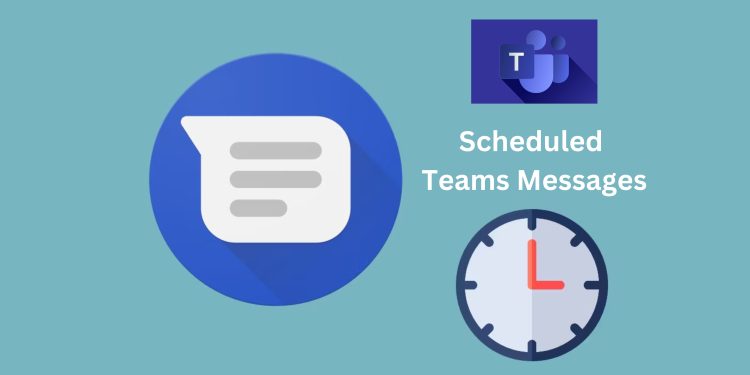 Understanding the Importance of Scheduled Messages
In a busy work environment, it's not always possible to send messages at the exact time when they are most relevant or when recipients are most likely to see them. This is where the ability to schedule messages in Microsoft Teams becomes invaluable. Using the Teams schedule message feature, you can plan and ensure that important messages are delivered at opportune times. Whether you want to share project updates, reminders, or important announcements, scheduling messages allows you to maximize communication efficiency and ensures that critical information doesn't get lost in the noise of daily conversations.
How to Schedule a Microsoft Teams Message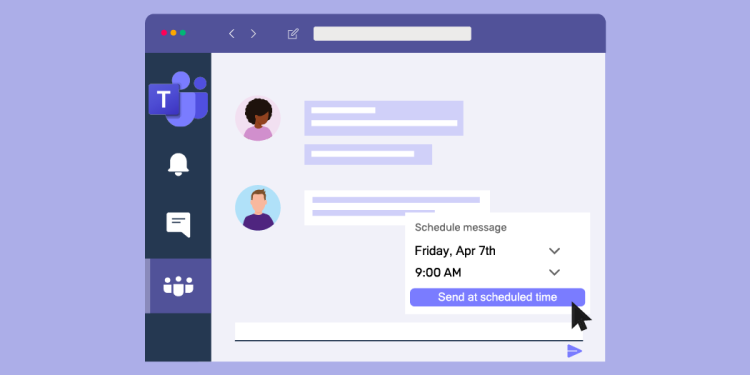 Scheduling a message in Microsoft Teams is a straightforward process. Follow these steps to schedule and send your messages effectively:
Step 1: Open the Microsoft Teams application on your desktop or mobile device.
Step 2: Navigate to the chat or channel where you want to send the scheduled message.
Step 3: Compose your message as you would normally.
Step 4: Instead of clicking the "Send" button, click on the small arrow next to it to reveal additional options.
Step 5: Select the "Schedule a send" option from the dropdown menu.
Step 6: Choose the desired date and time for your message to be sent.
Step 7: Review your scheduled message, and if everything looks good, click the "Schedule" button to confirm.
Following these simple steps, you can easily schedule messages in Microsoft Teams and send them automatically at the specified time.
Benefits of Scheduling Messages in Teams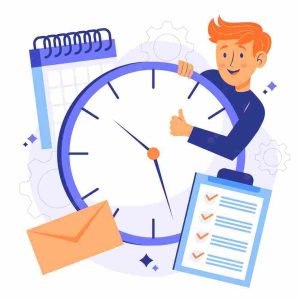 Scheduling messages in Microsoft Teams offers several benefits for efficient communication and collaboration within teams:
a) Time Management
With the ability to schedule messages, you can optimize your time and workload by planning. You can draft and schedule messages during non-working hours and ensure they are delivered appropriately, eliminating the need for manual sending and allowing you to focus on other tasks.
b) Consistency
Scheduling messages allows you to maintain a consistent flow of information within your team. You can send regular updates or reminders at predefined intervals, ensuring everyone is on the same page and reducing the chances of missing important information.
c) Global Collaboration
Teams often operate across different time zones, making it challenging to coordinate communication. By scheduling messages, you can overcome this obstacle and ensure that messages reach team members regardless of their location, improving global collaboration and inclusivity.
d) Reduced Interruptions
Sending messages during work hours can sometimes disrupt productivity or divert attention from other critical tasks. You can minimize interruptions and distractions by scheduling messages, allowing team members to focus on their work without constant message notifications.
e) Increased Productivity
By planning and scheduling messages, you can streamline your communication processes, reduce the time spent on manual message sending, and allocate your energy to more important tasks, ultimately increasing productivity within your team.
Best Practices for Scheduled Messages
To make the most of scheduled messages in Microsoft Teams, consider the following best practices:
a) Content Relevance
Ensure that your scheduled messages are relevant and timely. Analyze your team's needs and preferences to determine the most appropriate timing for different types of messages. By aligning the content with the recipients' needs, you can maximize the impact of your messages.
b) Consider Time Zones
Remember the recipients' local time when scheduling messages if your team operates across different time zones. This will ensure that your messages are received during working hours and not at inconvenient times. Taking time zones into account demonstrates consideration and respect for your team members.
c) Double-Check Scheduled Messages
Before confirming the schedule, review your messages to avoid any errors or typos. Once a message is scheduled, it cannot be edited or recalled, so accuracy is essential. Double-checking your scheduled messages helps maintain professionalism and conveys the intended message effectively.
d) Analyze and Adapt
Regularly evaluate the effectiveness of your scheduled messages. Analyze engagement metrics, such as response rates or feedback, to gauge the impact of your messages. Use this data to adapt your scheduling strategies and improve the efficiency and relevance of your future communications.
Conclusion
Scheduling messages in Microsoft Teams empowers you to communicate more efficiently, ensuring that important information reaches your team members immediately. By taking advantage of the Teams schedule message feature and following the best practices outlined in this blog post, you can streamline your communication processes, enhance collaboration, and improve overall productivity within your team. Start scheduling your messages today and experience the benefits firsthand. Schedule a Teams message today and discover the power of efficient communication.