In today's fast-paced digital world, political campaigns increasingly leverage SMS campaigns to reach voters effectively. SMS marketing has proven highly effective as it provides candidates with a direct and personal means to deliver their political messages.
Political Campaign Messages Samples:
Get involved: "We need your help to elect [candidate name]! Sign up to volunteer: [link]."
Get out the vote: "Make sure to vote on Election Day. Use this link to find your polling place: [link]."
Donate: "Your contribution can make a difference to our community. Help us elect [candidate name] by donating today at [link]."
Support message for election candidates: "I am proud to endorse [candidate name] for [office]. They are the best candidate for the job because they are dedicated to solving [issues]. Vote for [candidate name] on Election Day!"
Best political message: "Your vote is your voice. Use it to make a difference in the world."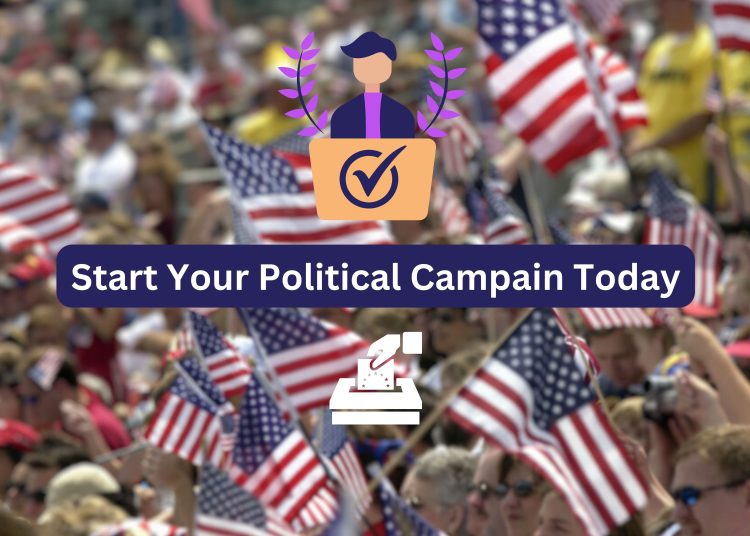 Campaign Messages to Voters:
On the economy: "I am committed to creating jobs and boosting our economy. I will fight for lower taxes and reduced bureaucracy to help businesses succeed."
On healthcare: "I will fight to ensure everyone has access to affordable healthcare and isn't financially ruined by illness."
On Education: "I am committed to investing in our schools and ensuring that all students receive a quality education."
Supporting a Candidate Quotes:
"The vote is the most powerful instrument ever invented by man for breaking the chains of his servitude." – Frederick Douglass
"Democracy is not something that we have, but something that we must forever nurture and defend." – Louis D. Brandeis
"The future belongs to those who believe in the beauty of their dreams." – Eleanor Roosevelt
Vote for the right person quotes:
"The vote is the most powerful nonviolent tool we have in a democratic society." – John Lewis
"Voting is your voice in our government. It is your chance to say what you think is important and who you want to represent you." – Michelle Obama.
"Your vote is your opportunity to make a difference. Use it wisely." – Anonymous.
Best election campaign messages for students:
Remember to vote and make your voice heard. Your future depends on it.
Vote for candidates who will fight for your future. Students have the power to change the world.
Your vote is a powerful tool in shaping your school and community.
Best Election Campaign Messages:
In politics, every word counts, and election campaign messages have immense power to shape the future. A successful campaign is built on solid policies, charismatic candidates, and messages that deeply resonate with the electorate. These messages go beyond mere words; they embody hopes, beliefs, and the promise of a better tomorrow.
A winning election campaign is built on messages that inspire, unite, and give voters a sense of purpose. These messages are more than slogans; they are rallying cries that bridge the gap between political ideals and public perception. Crafting these messages requires a deep understanding of the community's pulse, knowledge of the nation's mood, and a vision that aligns with the people's desires.
We invite you to join us as we examine these messages in detail, exploring the linguistic nuances that make them compelling and the strategic thinking that makes them effective. We'll look at how they resonate with different demographics, bridge partisan divides, and weave personal stories that citizens can relate to.
1. Make it concise and powerful.:
Example: "Vote for Change! John Smith – Your Advocate for a Better America. Together, Let's Shape Our Future. #SmithForChange #Election2024"
The key to successful SMS campaign messages is brevity. With a limited character count, conveying the message succinctly while maintaining its impact is essential. Focus on delivering the core message, which in this example is promoting a candidate (John Smith) as an agent of change. Include relevant hashtags to encourage social media engagement and create a sense of unity among supporters.
2. Highlight Key Issues:
Example: "🇺🇸 Education Reform: Quality Schools for All! Support Jane Garcia – The Future of Education Starts Now. Join Us at the Town Hall Tomorrow. #GarciaForEducation #Election2024"
Addressing critical issues that resonate with the public is a compelling way to garner support. In this example, the candidate (Jane Garcia) emphasizes education reform, showcasing her commitment to ensuring quality education for all citizens. Additionally, inviting people to a town hall meeting promotes transparency and accessibility, allowing voters to connect with the candidate on a personal level.
3. Appeal to Patriotism:
Example: "🗽 Proud to be an American! 🇺🇸 Stand United with Mike Johnson. Together, Let's Build a Stronger Nation. Vote Johnson for a Better USA. #JohnsonForUSA #Election2024″
Appealing to a sense of patriotism can strike an emotional chord with voters. This example encourages Americans to unite and work towards a stronger nation, using candidate Mike Johnson as a catalyst for that change. Including patriotic emojis can also add a visual element that captures attention and reinforces the message.
4. Highlight Accomplishments:
Example: "🏆 Accomplishments that Matter! Jane Doe: Lower Taxes, Stronger Economy, Safer Streets. Re-elect Doe for Continued Progress. #DoeDelivers #Election2024″
For incumbent candidates, showcasing their past achievements can be an effective way to secure re-election. This message highlights Jane Doe's accomplishments, such as lower taxes, a more robust economy, and improved safety. The SMS aims to remind voters of the candidate's positive impact and reinforce their trust by mentioning these achievements.
5. Urgency and Call-to-Action:
Example: "⏰ Time is Running Out! Don't Miss Your Chance to Shape Our Future. Vote Today for Mark Roberts – Your Voice Matters! #RobertsForFuture #Election2024"
Creating a sense of urgency can motivate voters to take action promptly. This message encourages people to cast their votes immediately and emphasizes the importance of their contribution to shaping the future. Including a call-to-action and the candidate's name helps strengthen the association between the message and the candidate.
Essential Components of a Political Message
The best campaign messages resonate with voters and inspire them to take action. Your message should be centered around the most critical issues to your constituents and should offer solutions. It should be clear, concise, and easy to remember so voters can easily recall it when they enter the polling booth.
Emotional campaign messages are crucial to success
Emotional appeal is a vital component of any campaign message. Voters are more likely to support a candidate if they can connect with them on an emotional level. Emotions such as fear, hope, and excitement can be powerful motivators, and using them in your message can effectively sway voters to your side.
How Do Candidates Appeal to Voters?
Candidates need to appeal to voters in various ways to gain their support. They must show that they understand voters' challenges and offer viable solutions. Candidates must also build trust with their constituents by displaying authenticity and a genuine passion for the issues that matter most to the voters.
The Power of Storytelling in Political Campaigns
Storytelling is an excellent tool for political candidates to use in their campaigns. Stories allow voters to connect with candidates on a personal level and can help to build a sense of trust and rapport. Candidates can share personal stories highlighting their values, experiences, and vision for the future to connect with their audience emotionally.
Creating a catchy campaign slogan is an art.
A memorable slogan is a vital component of any successful campaign message. It should be clear, concise, and easy to remember so voters can easily recall it when they enter the polling booth. A good slogan should be centered around the issues that matter most to the voters and offer a compelling solution.
Effective Political Campaign Messages
There have been many successful political campaign messages throughout history. For example, President Obama's "Yes We Can" slogan inspired millions of Americans and helped him win the presidency. President Donald Trump's "Make America Great Again" message resonated with voters who wanted to see a change in the country. Looking at these examples, it's clear that a compelling campaign message can make all the difference in an election.
Social media's impact on campaigns.
Social media has become integral to political campaigning, offering candidates a powerful tool for reaching voters. Social media allows candidates to share their message with a broad audience, engage with voters directly, and respond to questions or concerns. Social media can also help candidates build a sense of community and inspire supporters to act on their behalf.
Crafting a Unique Political Message.
Creating a message that stands out from the crowd can be challenging in a crowded political landscape. However, by focusing on the issues that matter most to your constituents, offering solutions to them, and using emotional appeal and storytelling to connect with your audience, you can create a message that resonates with voters and inspires them to take action on your behalf.
Consistency is vital in messaging campaigns.
Consistency is critical in campaign messaging. Your message should be consistent across all channels, including social media, television ads, and speeches. This consistency helps to build trust with voters and reinforces your message in their minds.
Tailoring Messages for Different Voter Groups
Different voter groups may have different concerns and priorities, and it's essential to tailor your message to specific groups of voters. For example, if you're running for office in a predominantly rural area, you may want to focus on issues related to agriculture and farming. On the other hand, if you're running for office in an urban area, transportation and public safety issues may be more critical.
Political Text Messages Examples
Text messaging is becoming an increasingly popular tool for political campaigning. Candidates can use text messages to communicate directly with voters, ask for donations, and encourage them to take action. Here are a few examples of compelling political messages example:
"We need your help to make a difference. Donate now and be a part of our movement for change."
"Don't forget to vote on Election Day! Your vote matters."
"Join us for a rally on Saturday and help us build a better future for our community."
Dos and Don'ts for Campaign Messaging
Crafting a compelling campaign message requires careful thought and consideration. Here are a few dos and don'ts to keep in mind when crafting your message:
Do:
Focus on the issues that matter most to your constituents.
Offer solutions to those issues.
Use emotional appeal and storytelling to connect with voters.
Be authentic and genuine in your message.
Don't:
Use negative or divisive language.
Make promises that you can't keep.
Ignore the concerns and priorities of your constituents.
Be too vague or general in your message.
Are you looking for a powerful tool to help you with your political campaign messaging? Look no further than PowerTextor!
Power Textor is a great platform to help political candidates connect with voters through text messaging.
Whether running for local office or a national campaign, PowerTextor can help you reach your goals and connect with voters meaningfully. Sign up for a demo today and see why PowerTextor is the best choice for political campaign messaging.
Conclusion:
In the competitive landscape of political elections, SMS campaigns offer a valuable tool to reach and engage with voters directly. By crafting impactful political messages, candidates can effectively convey their vision, values, and promises, ultimately increasing their chances of success at the polls. Remember to keep your messages concise, focus on critical issues, evoke emotions, and provide a clear call to action. With these strategies, candidates can harness the power of SMS marketing to build meaningful connections with voters during their election campaigns in the USA.