Asking for donations requires talent, imagination, and practice. A single poorly chosen word can be the difference between a donation and no donation. Writing fundraising emails and donation requests may seem daunting, but we are here to help.
Knowing how to ask for donations at the outset is a fantastic place to start when it comes to fundraising. Donations keep nonprofit organizations operating, helping you spread the word about your cause, raise money for it, and have a more significant influence.

What are Donation Requests?
Nonprofit organizations utilize donation requests to persuade potential donors to donate. These typically include a formal request for assistance. Donation requests can be found in emails, letters, brochures, event invitations, websites, social media, and more. Not only can nonprofits send appeals to individuals but also small, medium, and large corporations in their community, country, and worldwide.
Ask for Donations by Text:
Crafting compelling and concise donation messages is essential to spark interest and inspire action. Whether raising funds for a noble cause, supporting disaster relief efforts, or empowering a local community project, the art of composing impactful text donation requests can make all the difference.
Find your reason to text:
Texts are so brief, so make sure your donation request is specific (compelling and witty). Demonstrate to donors that you have a compelling justification for asking them to remove their priceless mobile device from their pocket. It can be your yearly appeal or an extraordinary project.
Example: "Please support our cause with a small donation today! Every dollar counts and brings us closer to our fundraising goal. Thank you for your generosity!"
Build donor relationships:
Yes, you're seeking donations, but the foundation of every donation is a relationship with the contributor. Don't just send money requests; if you do, your SMS will quickly be stopped. Send success tales to encourage your supporters. If you're hosting a fun event, let people know.
Example: "Hi [Donor's Name], we appreciated your past support and wanted to update you on the impact you've made. Thanks to your donations, we've provided essential supplies to needy families. Your continued support will help us reach even more people. Thank you!"
Find your tone:
Your words don't matter less just because a text is brief. When you have to be brief, each word is more important. Don't be overly aggressive or casual; keep your audience in mind. You know your charitable organization and contributors; you are fine.
Example: "Hello! We hope you're having a great day. As a valued supporter of our cause, we kindly ask for your contribution to help us continue making a positive impact. Your donation will go a long way in supporting our efforts. I appreciate your support!"
Keep it specific:
Don't let your SMS requests explode into five separate, consecutive messages. Your donation request is much more likely to be read if you keep it to 160 characters or fewer. So it's acceptable to send details individually. Feel free to send a donation request email with more details as a follow-up.
Example: "URGENT: We're facing a critical funding gap that could impact our programs. With your donation, we can continue providing essential services to those in need. Help us bridge the gap today!"
Ask for Donations by Email:
Asking for donations through email can be a powerful tool for nonprofit organizations and charities looking to raise funds for their cause. However, crafting the perfect email that effectively conveys your message and elicits a response can be challenging. Here are some tips to help you get started: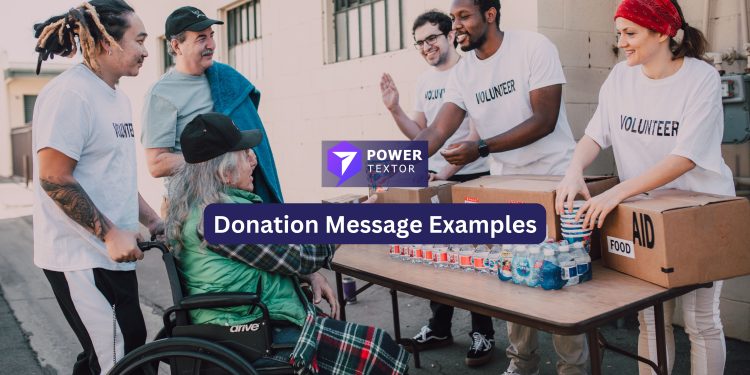 Personalize your email:
Dear [Donor's Name],
I hope this message finds you well. As a valued supporter of [Organization Name], we wanted to reach out and update you on the progress we've made toward our mission to [briefly describe your mission or cause]. Your past contributions have played a vital role in our success, and we are incredibly grateful for your continued support.
Introduce your campaign or cause:
We are excited to announce our upcoming [campaign/event/fundraiser] called [Campaign/Event Name]. This initiative aims to [briefly describe the purpose and goals of your campaign]. We believe that working together can significantly impact and positively change the lives of [beneficiaries].
Include a clear call to action:
To make this campaign a success, we are relying on the generosity and support of donors like you. Your contribution, no matter the amount, will directly contribute to [specific impact or outcome]. We kindly ask for your donation to help us reach our fundraising goal of [fundraising target]. You can easily donate by clicking the link below:
[Insert Donation Button/Link]
Express gratitude and provide contact information:
Once again, we want to express our deepest gratitude for your unwavering support. Your generosity makes a real difference in the lives of those we serve. If you have any questions or want to learn more about our organization or the campaign, please don't hesitate to contact us at [contact email/phone number].
Thank you for championing [Organization Name] and our mission to [mission statement]. Together, we can create lasting change.
Best regards,
[Your Name]
[Your Title/Organization]
Examples of How to Ask for Donations on Social Media:
Social media platforms offer a vast potential audience for your fundraising efforts. Here are a few examples of how to ask for donations effectively on social media:
1. Craft a compelling story:
Share a personal story or testimonial highlighting your organization's or cause's impact. Use images or videos to create an emotional connection and explain how donations can make a difference.
2. Create a sense of urgency:
Encourage potential donors to take immediate action by emphasizing the time-sensitive nature of your fundraising campaign. Highlight deadlines or limited-time matching grants to motivate people to donate promptly.
Example: "Only 3 days left to reach our fundraising goal! Your donation will be matched dollar-for-dollar, doubling the impact of your contribution. Help us make a difference today!"
3. Utilize eye-catching visuals:
Include visually appealing images, infographics, or videos that grab attention and convey your message concisely. Ensure your visuals align with your cause and evoke the desired emotional response.
4. Leverage user-generated content:
Encourage your supporters to share their stories, photos, or videos about your cause. User-generated content can help spread awareness and inspire others to donate.
Example: "We would love to hear how our cause has touched your life. Share your story in the comments below and help us raise awareness for [cause]. Don't forget to donate and make an impact!"
5. Provide easy donation options:
Include direct links to your donation page or platforms like PayPal, Venmo, or crowdfunding websites to simplify the donation process. The easier it is for people to contribute, the more likely they are to donate.
Remember, social media is a powerful tool for reaching a broad audience, but it's essential to maintain an authentic and engaging presence. Regularly update your followers on the progress of your fundraising campaign and express gratitude for their support.
Asking for Donations from Businesses:
When seeking donations from businesses, it's crucial to approach them professionally and demonstrate how their support aligns with their corporate values. Here's how to ask businesses for donations effectively:
1. Research and target the right businesses:
Identify companies with an interest in similar causes or a history of supporting nonprofits. Tailor your message to their specific industry or community involvement.
2. Customize your request:
Personalize your approach by addressing the business owner or relevant department. Explain why their partnership is valuable and how their contribution will make a difference.
Example: "Dear [Business Owner/Manager], We greatly admire your commitment to community impact. As a local business prioritizing giving back, we believe our organizations share a common vision. We kindly request your support in [specific initiative] to [benefit or impact]."
3. Offer mutually beneficial opportunities:
Highlight the benefits of partnering with your organization, such as increased brand visibility, positive public relations, or employee engagement opportunities. Emphasize how their contribution will make a positive impact on the community.
4. Provide recognition and exposure:
Offer to promote their business through your organization's website, social media channels, event signage, or press releases. Highlight the potential for increased brand visibility and positive association with your cause.
5. Follow up and express gratitude:
Send a thank-you note or email after receiving a donation from a business. Express your appreciation for their support and provide updates on how their contribution makes a difference.
Remember, businesses receive numerous donation requests, so it's essential to stand out by showcasing the unique value of partnering with your organization.
How to Ask for Donations Online:
Online platforms provide convenient and accessible avenues for collecting donations. Here are some practical ways to ask for donations online:
1. Create a compelling donation page:
Design a visually appealing and user-friendly donation page that clearly explains your cause, goals, and the impact donations can make. Include suggested donation amounts and showcase the progress towards your fundraising target.
2. Share your donation page on various channels:
Utilize email newsletters, social media platforms, and your organization's website to promote your online donation page. Encourage your supporters to share the page with their networks to expand your reach.
Example: "Help us reach our fundraising goal! Donate online today at [Donation Page URL]. Every contribution counts and brings us closer to making a difference in [cause/issue]."
3. Utilize email for donation requests:
Craft personalized and compelling email messages to reach out to potential donors. Clearly explain your cause, why their support is essential, and how their donation will be used. Include a direct link to your online donation page.
Example: "Dear [Donor's Name], We hope this email finds you well. We are requesting your support for [cause/organization]. Your generous contribution will directly impact the lives of [beneficiaries]. To donate securely online, please click [Donation Page URL]. Thank you for being a part of our mission!"
4. Leverage social media fundraising tools:
Many social media platforms offer built-in fundraising tools to create dedicated fundraising campaigns. Use these features to tell your story, set fundraising goals, and provide regular updates on the progress.
Example: "We're excited to announce our fundraising campaign on [social media platform]! Help us reach our goal of [fundraising target] by donating directly through this platform. Together, we can significantly impact the lives of those in need. #DonateNow"
Donation Sign Wording:
Signage can be vital in attracting attention and encouraging donations when organizing fundraising events or activities. Here are some examples of effective donation sign wording:
"Support [Cause/Organization]: Your donation makes a difference!"
"Please donate if you can: Every contribution helps!"
 "Join us in making a positive impact: Donate today!"
"Be a part of the change: Give generously!"
"Your support matters: Help us reach our fundraising goal!"
Remember to use bold and legible fonts, vibrant colors, and eye-catching graphics to make your donation signs visually appealing.
Short Donation Message Examples:
Personalizing your donation messages can inspire generosity when using platforms like JustGiving for online fundraising. Here are some examples:
"I'm raising funds for [Cause/Organization] because [personal reason/story]. Your donation, no matter how small, can create a significant impact. Thank you for your support!"
"Help me make a difference in the lives of [Beneficiaries]. I've set a fundraising goal of [Amount]. Please donate and join me in transforming lives!"
"I'm running a marathon to support [Cause/Organization]. Your donation will not only motivate me but also make a lasting impact. Let's change lives together!"
"Donate today and help us achieve our [Cause/Objective] mission. Your generosity will empower us to make a positive change in our community. Thank you for your support!"
Remember to personalize your message based on your relationship with the recipient and the nature of the fundraising campaign.
Conclusion:
Asking for donations requires careful thought and effective communication. Whether through short donation messages, emails, social media posts, or business requests, using the correct wording, personalization, and conveying the impact of donations are crucial elements.
Remember to be genuine, express gratitude, and provide clear instructions on how potential donors can contribute. By incorporating these strategies and examples, you can improve your fundraising efforts and engage with a broader audience, making a more significant impact on your cause.
We hope these examples and tips inspire you to ask for donations and achieve your fundraising goals confidently. Good luck!