In the fast-paced world of real estate, fostering strong customer relationships is paramount, and in 2023, the most effective way to achieve this is through text messaging. Real estate businesses can forge meaningful bonds with existing and potential buyers by harnessing the power of efficient and swift SMS marketing software. This not only enhances the chances of closing sales but also paves the way for substantial business growth. In this blog, we delve into the latest edition, revealing the nine (9) best real estate text message marketing software of 2023, empowering realtors with the tools they need to succeed in the competitive landscape. Let's explore how these cutting-edge solutions can revolutionize how you connect with your clients and elevate your real estate business to new heights.
SMS Marketing for Real Estate
SMS marketing in real estate is a game-changing approach to engage clients and grow business. Text messaging is the most efficient way to establish and maintain strong customer relationships. SMS marketing is great for real estate because almost everyone has a phone. You can update clients quickly on new listings, price reductions, and open houses, keeping them engaged and informed.
SMS marketing has a high open rate and ensures prompt visibility of your messages. It captures immediate attention and enables real estate professionals to respond promptly to inquiries, ultimately increasing the likelihood of converting prospects into satisfied clients.
Personalization is key in SMS marketing for real estate. Crafting messages that cater to individual needs and preferences builds trust and loyalty. Suggestions for properties and personalized offers can enhance the customer experience.
SMS marketing provides quick feedback and helps track client engagement, allowing real estate professionals to refine their strategies and better connect with their target audience. Real estate agents must use SMS marketing responsibly by obtaining consent from recipients before sending promotional messages to avoid negative brand image and unwanted communication.
We have compiled a list of the nine most effective text message marketing software for your real estate business.
PowerTextor
PowerTextor is everyone's favorite because it's simple, robust, and effective. With the PowerTextor connector, you can send text messages with Microsoft Power Automate. Real estate agents and brokerages can collect customer feedback and post approved responses to Google Reviews.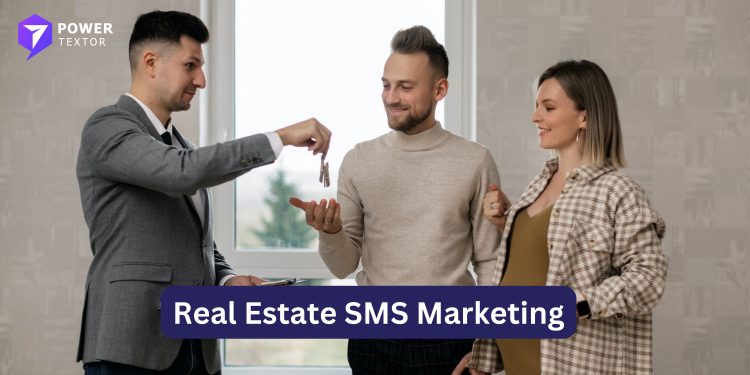 PowerTextor allows you to drive event attendance and engagement with automated event SMS campaigns. With bulk text messaging, real estate agents can send event registration links, share event updates and send personalized discount codes.
SimpleTexting
SimpleTexting offers several features to real estate agents – from building an audience of engaging subscribers to personalized messages. It also offers mass texting, two-way conversations, and autoresponders by automating one or more messages.
SimpleTexting also allows MailChimp integration, Zapier integration, and extended messaging, besides its other incredible features. Real estate agents can also collect meaningful client feedback by sending surveys and polls through SMS.
Twilio
Twilio offers personalized features to help you connect with your customers. It is a trusted global SMS marketing platform for communication that allows you to build personal customer relationships. Real estate agents can connect with customers on their desired channels and empower their teams.
Twilio allows real estate businesses to deliver quality customer service and personalized support to witness record-breaking sales.
Heymarket
Heymarket is a business texting platform that empowers real estate agents to connect with customers using shared inboxes. They can communicate with customers on any channel, keep the team productive, and securely integrate their business apps.
Real estate agents can easily convert leads into customers with business SMS. With Heymarket, sending meeting reminders and following up with potential buyers is easier to increase sales. You can benefit from the features of the personalized message, run targeted SMS marketing campaigns, and attract leads from website clicks.
TextMagic
TextMagic is an excellent SMS marketing tool for real estate business owners. It offers mass text to multiple countries and allows SMS API integration. Real estate agents can send and receive text messages via two-way chat and emailing with SMS distribution lists.
Real estate business owners can schedule essential SMS reminders, alerts, campaigns, and notifications online to be sent when required. Their subscribers can message STOP to opt out from the SMS list anytime and reduce costs.
EZ Texting
EZ Texting is another effective tool for real estate businebusinesses'ct management, text automation, and other features. With EZ Texting, real estate agents can utilize MMS picture messaging, engage with customers through mobile apps, and use two-way text messaging for a seamless customer experience.
Contact management makes it much easier to import, personalize and manage multiple contacts simultaneously. Real estate SMS subscribers can opt-out anytime, while its extensive media library helps you create and edit compelling images for your MMS campaigns. EZ Texting allows integrations to connect directly with Hubspot, Mailchimp, and others.
ClickSend
ClickSend is an easy-to-use, appropriate, quality SMS marketing tool for real estate brokers and buyers. It offers texting features like mass texting, MMS messaging, and easy integration. Realtors can use SMS templates to connect with potential leads and send customers SMS alerts in case of a special deal or exciting announcements.
Klaviyo
Klavioyo is an efficient SMS marketing tool that helps real estate business owners increase subscribers and send dedicated bulk texts simultaneously. It's an all-in-one platfoIt'shat allows built-in integrations for more personalized engagements and automates your business growth.
Real estate agents and brokers grow their SMS subscriber list with accessible- pre-built signup forms and drive more sales through personalized SMS messaging campaigns. Klaviyo offers all the tools for real estate businesses to grow within one effective platform.
BatchLeads
BatchLeads helps real estate agents and brokers start successful conversations and reach leads quicker with in-app SMS and access to property info mid-conversation. It offers several ways to promptly connect with property owners and buyers and start custom direct mail campaigns and in-app click-to-dial. You can push contacts to your SMS platform or BatchDialer for a smooth communication experience.