Since its introduction in 1992, SMS has gained immense popularity due to its simplicity and convenience. Short Message Service (SMS), or text messaging, has become integral to modern communication, with billions of messages being sent and received daily. You've come to the right place if you've ever wondered what SMS stands for or what it means in the text. In this article, we'll delve into the meaning of SMS, its functionality, and its significance in our daily lives.
What Does SMS Stand For?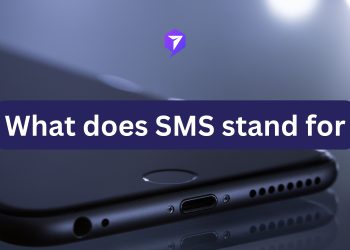 SMS, or Short Message Service, is the technology behind text messaging, enabling the transmission of short written messages between mobile devices. When someone refers to SMS and asks what it stands for, they ask about the meaning of this widely used communication method.
What is SMS Messaging
In today's fast-paced digital era, where communication plays a pivotal role in connecting people across the globe, the term "SMS messaging" has become a ubiquitous part of our daily lives. But what exactly is SMS messaging? At its core, SMS is a "Short Message Service," a technology that allows users to send and receive concise text messages via mobile phones. This revolutionary communication has transformed how we interact, transcending geographical barriers and bridging gaps instantly. In this article, we delve into the meaning of SMS messaging, exploring its origins, purpose, and statistical impact on modern society.
Statistical Facts:
Global Reach: As of the latest available data, SMS messaging continues to be one of the most widely used communication channels worldwide, with over 5.5 billion unique mobile phone subscribers. This incredible reach showcases the universal appeal and significance of SMS to stay connected.
Rapid Growth: Since its inception, SMS messaging has experienced exponential growth, remarkably surpassing traditional forms of communication. Studies reveal that SMS has achieved a staggering 98% open rate, making it a highly effective tool for businesses and individuals to convey important information.
Business Impact: The business world has also harnessed the power of SMS messaging to engage with customers effectively. Surveys indicate that 75% of consumers prefer to receive appointment reminders, promotional offers, and service updates through SMS, indicating its efficiency in building brand loyalty and enhancing customer experience.
Immediate Delivery: One key feature that sets SMS messaging apart is its lightning-fast delivery speed. Statistics show that approximately 90% of SMS messages are read within the first three minutes of receipt, ensuring that time-sensitive information reaches its intended recipients promptly.
Economic Advantages: SMS messaging is cost-effective Compared to other communication channels like phone calls or physical mail. With the reduced need for printed materials and postage, businesses can save substantial amounts while maintaining direct and efficient communication with their target audience.
Social and Cultural Impact: SMS messaging has influenced modern communication habits, developing new linguistic conventions, such as abbreviations and emoticons. This evolution in language showcases the dynamic nature of human interaction and adaptation to technological advancements.
As we progress into the digital age, the meaning of SMS messaging continues to evolve, profoundly impacting how we stay connected, conduct business, and express ourselves in this fast-paced, interconnected world. Understanding the essence of SMS messaging enables us to appreciate its transformative power, making it an integral part of modern communication strategies and personal connections.
SMS in Business Communications
So, what does SMS stand for in business? In a business context, SMS stands for Short Message Service. It is the standard protocol for sending text messages electronically between devices. Businesses utilize SMS messaging as a means of communication with their customers. It has proven to be an effective way for businesses to engage with their audience, provide important updates, and even deliver marketing messages.
Understanding SMS in Text Messaging
When discussing what SMS means in a text message, we refer to sending and receiving short written messages electronically. It is a quick and convenient way to communicate, especially when a phone call is not feasible or necessary.
How SMS Works
The functioning of SMS is relatively straightforward. When you send an SMS, you compose your message using your device's keypad or touchscreen. The message is then converted into digital and transmitted to the intended recipient's device through the mobile network. The recipient's device receives the message and displays it as a text notification or within their messaging app.
Character Limit and Advancements
SMS messages are typically limited to a certain number of characters, usually 160 characters per message. However, with technological advancements, many messaging apps and services now support longer messages or multimedia attachments. This expanded functionality is known as Multimedia Messaging Service (MMS). MMS allows users to send and receive text and multimedia elements such as pictures, videos, and audio files.
The Significance of SMS and MMS
The significance of SMS and MMS in our daily lives cannot be overstated. They have revolutionized how we communicate, allowing for a quick and convenient exchange of information. Whether coordinating plans with friends, staying connected with family, or receiving essential business notifications, SMS and MMS have become vital tools for efficient communication.
The Role of SMS in Business
SMS is not limited to personal communication; it has become an invaluable tool for businesses across industries. Many companies utilize SMS for marketing campaigns and customer communication, benefiting from its ability to reach a vast audience rapidly.
Businesses can use SMS to share promotions and discounts with customers or provide updates on new products and services. SMS is also effective for sending appointment reminders or confirming bookings and reservations.
Moreover, SMS plays a crucial role in customer service. It allows companies to promptly address customer inquiries and offer support, enhancing the overall customer experience.
Additionally, the financial industry relies on SMS to provide alerts and notifications to customers, such as balance updates or fraud alerts. This helps keep customers informed and safeguards their financial well-being.
Unlocking the Advantages of SMS
SMS offers several advantages that contribute to its enduring popularity. Firstly, SMS provides unparalleled reach, with over 7 billion mobile phone users worldwide. This extensive user base enables businesses to connect with a vast potential audience. Additionally, SMS boasts a high open rate, with most text messages being read within minutes of receipt. This ensures that messages reach their intended recipients promptly.
Secondly, SMS offers high levels of customization. Businesses can personalize messages by addressing customers by name and employing keywords and language that resonate with their target audience. This personal touch creates a more engaging and memorable customer experience, fostering brand loyalty and engagement.
Thirdly, SMS is a cost-effective solution for businesses. Unlike other forms of marketing, such as television or print advertisements, SMS offers relatively low costs. This affordability makes it an attractive option for small businesses and startups seeking to reach a large audience without straining their budgets.
Introducing PowerTextor: Empowering SMS Marketing
PowerTextor is a robust SMS marketing platform that empowers businesses to reach their target audience effectively through SMS messaging. With PowerTextor, businesses can effortlessly create and send SMS campaigns, monitor their performance, and evaluate their success.
One of PowerTextor's key features is its ability to personalize messages by addressing customers by name and utilizing language that resonates with the target audience. This level of customization enhances the customer experience, leading to improved brand loyalty and engagement.
Furthermore, PowerTextor offers businesses advanced targeting and segmentation options, enabling them to send tailored messages to specific customer groups based on demographics, location, interests, and more. This precision targeting ensures messages reach the intended audience effectively, enhancing campaign efficacy.
Moreover, PowerTextor provides tools for tracking and measuring the success of SMS campaigns, including delivery and open rate reporting, real-time analytics, and more. These insights enable businesses to make data-driven decisions regarding their messaging strategies, continually refining and improving their campaigns.
Conclusion
SMS, which stands for Short Message Service, has revolutionized communication in the digital age. It has become indispensable for personal and business interactions, marketing initiatives, and customer engagement.
With its extensive reach, high open rate, and cost-effectiveness, SMS offers businesses unparalleled opportunities to connect effectively with their target audience. Its customization capabilities and ability to create personalized experiences contribute to fostering brand loyalty and engagement.
Furthermore, the introduction of PowerTextor has elevated SMS marketing to new heights. By leveraging its personalization features, advanced targeting options, and comprehensive analytics, businesses can take their SMS marketing efforts to the next level, achieving their marketing goals and maximizing their impact.
SMS is not merely an acronym; it represents a powerful and versatile form of communication that continues to shape how we connect and engage in the modern world.